MAD BAR IBIZA
Jul 13th, 2012 | By
Blog - Editor
| Category:
PLACES TO BE - IBIZA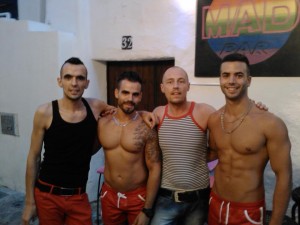 MAD BAR IBIZA
calle de la virgen 32
07800 Ibiza, Islas Baleares, Spain
Hoy a las 19:30 – 3:30
located in the heart of the most popular streets of the port of Ibiza (Calle de la Virgen), Mad Bar offers a simple and relaxed atmospher, good music (really well know for that matter) and of course its unrivaled Mojitos which are surely among the best of the island (just come to taste, you will not be disappointed!).
With its large outdoor terrace you can admire the most extravagant parades discos (and the nicest guys!) While enjoying your favorite cocktail.
We also guide you to choose your best events on the island and even allow you to be among the guest of those famous parties like Just Scandal, Matinee, La Troya, Face of Ibiza and many more.. in of course the clubs like Space or Amnesia!
See You There, Manu And David!
See Where to go on google Map.
Visit the Facebook Page
situé au coeur de la rue la plus animé du port d'Ibiza (calle de la virgen), Mad Bar vous propose une ambiance simple et decontracté, de la bonne musique (tres reputé pour cela d'ailleurs) et biensur ses inegalables Mojitos qui font surement parti des meilleurs de l'ile (venez les gouter, vous ne serez pas deçu!!!).
Avec sa grande terrasse exterieur, vous pourrez admirer les plus extravagantes parades de discotheques (ainsi que les plus beaux mecs!) tout en savourant votre cocktail favori.
Nous vous guiderons egalement pour choisir vos meilleurs sorties sur l'ile et vous permettront meme d'etre parmis les guest de ces fameuses soirées tel que Just Scandal, Matinée, La Troya, Face of Ibiza et ce dans les plus grands clubs comme Space ou Amnesia!
Vistez la Page Facebook
See You There, Manu And David!